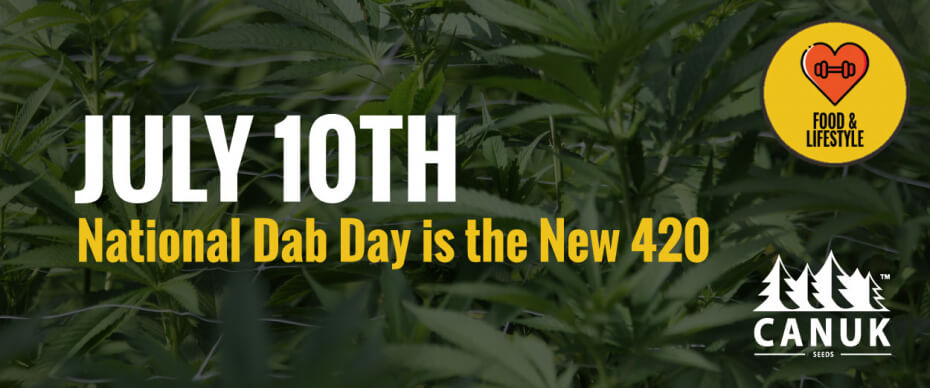 420 has always been associated with celebrating cannabis. Well, we now have a new day to celebrate: July 10 (7/10) is National Dab Day.
710 day is a new unofficial day to bust out the blowtorch, grab your favorite cartridge and indulge in your favorite cannabis oil. 710 was chosen because if you flip the numbers around, it spells oil. Pretty clever, right?
Cannabis concentrates are gaining in popularity.
The flavour and the potency of cannabis oil varies from product to product, but one thing remains the same: they are devilishly tasty.
710 Experience: How to Celebrate Dab Day
OIL spelled in caps and flipped upside down is 710, so July 10th is now the unofficial celebration of cannabis concentrates.
If you haven't ever dabbed before, take it slow and start small.
There is something funny about giving your bestie a fat dab and watching them proverbially die.
It's not the nicest thing to do, but it's definitely comical.
Buy A New Dab Rig
Feel free to peruse cannabis stores and pick out a new rig.
Adding a new piece of glass to your collection is always a pleasant experience.
Some pieces are so fancy they look more like pieces of art than a bong for cannabis concentrates.
Try A New Strain
Cannabis concentrates come in all types of textures and potency levels.
There's shatter which is brittle, butter that is smooth, wax, and crumble that are a little grainy.
Experiment with different strains to find your ideal dab.
Personally I am a big fan of solventless diamonds. They have a high-THC content and are made with a supercritical CO2 system instead of solvents like butane.
Try an E-Nail
Before you can get dabbin' , you need a dab rig, dab tool (nail), and a fancy bowl made specifically to withstand the heat from a torch.
An E-nail is an electronic alternative to using a blowtorch and a dab tool. They can be pricey, so shop around if you are looking to get one. E-nails are quite handy and a safer way to dab.
International Dab Day in a Nutshell
Having another day to get baked and enjoy all that cannabis concentrates has to offer is pretty stellar.
That being said, 710 will never replace 420 in my eyes. Also, every day is dab day for some of us. But it's always nice to have a reason to celebrate cannabis culture.
What are you doing for dab day? What's your favorite type of cannabis concentrate? We want to hear from you! Leave a comment below or come visit us on Twitter and Instagram.
As always, stay lifted!
About the author: Heather Burton
Heather lives with her husband and two children in beautiful British Columbia. Her passion has always been to enhance the lives of others by helping them reach their business goals.
Content management is her specialty, and writing is what she does best. Working specifically in the cannabis market, Heather strives to help dispensaries, patients, doctors, manufacturers and recreational users by giving them the voice they need. When she is not writing, you can find her anywhere outdoors and away from the screen.
Last Update
2022-10-03 09:38:13