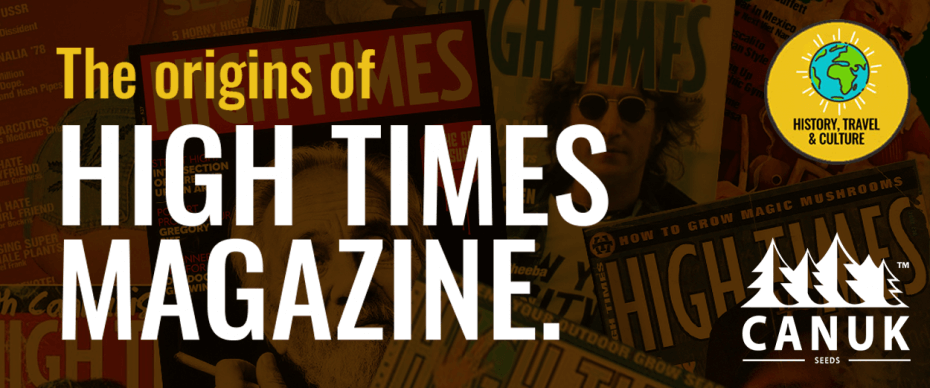 High Times Magazine is coming close to it's semicentennial mark. What was founded in 1974, is less than 2 years away from celebrating its 50th year in print.
And what a ride the last almost 5 decades have been.
Writing this article is special to me. If I didn't say High Times helped shape me into the cannabis writer I am, I would be lying.
This magazine is the reason I am the person I am (and do what I love). Every. Single. Day.
From its humble roots in 1974, High Times magazine has flourished into a big bad bud-content beast!
Just like cannabis, this magazine genetically mutated and expressed its own "phenotypes" over the years with each passing Editor in Chief and boss-man.
Let's take a look into the origins of High Times magazine, and how a fun idea conceptualized during a nitrous oxide session became a strong pillar for both the counterculture and pro-cannabis movement.
1974: The Beginning of High Times
Once upon a time, in 1974, there was a man named Thomas King Forcade…
Oh, wait, I'm sorry, you don't want a story-story? My bad, I'll just stick to the facts.
Thomas King Forcade was not only the founder of High Times magazine, but also a counterculture pioneer and an excellent cannabis smuggler.
With his scraggy group of editors in tow, Thomas King set out to create a single one-off spoof of Playboy-but with weed.
If the stories are true I can only imagine how that conversation went down
*takes a big whiff of nitrous* "Hey Man.."
"Yeaaahhh?"
"You know what would be cooler than Playboy magazine?"
*passes the nitrous oxide* "What man?.."
"Inhales deeply* Playboy magazine…but with weed"
Some say it was supposed to be more than just a spoof on playboy, and that the single issue was to unsettle Nixon's war on drugs efforts.
Whatever the case may be, the first issue of High Times had to be printed twice, and by the time the second issue printed over 50,000 copies were made and sold just as quickly.
Over the last 47 years High Times has become synonymous with cannabis culture.
The year 2017 marked High Times' 500th issue, and a 70 million dollar price tag, but we'll get to that further down in this article.
Back to the founder:
Forcade was an outlaw who created an outlaw magazine, and he was no stranger to pot smuggling.
It's safe to assume the proceeds from his not-so-legal ventures is what funded High Times' original issue.
because that's how he funded previous counterculture publications in the late 1960's and early 1970's.
By 1978, the magazine grossed over five million dollars per year and was read by four million people every single month.
If that's not a publication success story, I'm not sure what is.
The 1980's
Unfortunately, in 1978 Tom Forcade committed suicide in his New York apartment, which caused a major disruption for the magazine.
With new leaders, the magazine veered from its roots and took a turn in a different direction.
Enter: cocaine.
For the first couple of years the magazine focused less on educating the masses on cannabis cultivation and more on hard substances like coke.
Let's be clear though: cocaine was everywhere in the 1980's. Not just gracing the cover of High Times, but most likely on the staff member's desks as well.
Fortunately, in the mid-80's, thanks to Steve Hager and John Howell (the new editorial team leaders), the magazine pivoted back to its cannabis-orientated roots.
High Times' history has been far from roses. Probably the roughest go they faced was in the late-80's.
During this time, the DEA tried quite hard to get the magazine shut down.
They did not succeed, because the magazine never broke the law-not once.
High Times was the educational publication that taught us how to grow our own cannabis at home.
Growing cannabis indoors became a huge theme in the 80's and 90's, and the magazine led the way.
Big dense buds graced the covers of the magazine, while the pages inside were chalked full of vital information on how to cultivate your own.
The 1990's
Jumping into the 1990's High Times held strong on its cannabis cultivation focus.
During this time it was thought that you needed acres of land if you wanted pounds of pot.
The covers and content of the magazine proved that was not the case.
Growing your own cannabis did not have to be expensive, and it sure as heck didn't need to be difficult.
The 90's was also the decade of celebrity covers.
The first cover was in March 1992 featuring Cypress Hill.
Then, it was The Black Crowes. After, bands and celebrities were busting at the seems to be featured on the cover.
Kurt Cobain, Ozzy Osbourne, Ice-Cube, George Carlin, and Kieth Richards were only a few musical icons to appear on the cover during the 1990's.
The early 2000's
For the most part, cannabis cultivation has been the backbone feature of High Times. The late 90's and early 2000's were no different.
However, some of the magazine's longest running cultivation features began to bloom during this time.
The Seed Bank Hall of Fame (formally known as the World's Greatest Seed Banks) and the STASH Awards are only a couple of them.
In 2004, cannabis was removed from the magazine in an effort to take the publication in a more political route. Cannabis content was demoted to a quarterly magazine called Grow America.
Obviously, things didn't work out so well because in January 2005 High Times announced "the buds are back!".
Although there wasn't a famous musician- the buds on the cover is the elite Strawberry Cough cannabis strain- the publication was rockin and rollin' once again.
High Times: Today
In the last decade, High Times has seen yet another series of firsts.
June 2010 marked the first Cannabis Cup in the US.
Because Federal legalization was lacking (and still is), the High Times Medical Cannabis cup was born.
It took place in San Francisco California and is running strong across the country to this day.
October 2012 was the first issue to have dabs grace the cover. The issue was published shortly after hosting its third Cannabis Cup.
It raised the question if cannabis concentrates were the future of cannabis products.
Nearly a decade later, dabs (concentrates) have found their place in cannabis culture and most certainly have not replaced big buds and potent strains.
In July 2017 the publication had its biggest first of the new millenia- going public. High Times is acquired by Origo Acquisition Corporation with a controlling share of the company that cost $70 million dollars.
It just goes to show the value of brand identity.
At that time, the magazine not only had 236,000 monthly subscribers, but it also had a digital presence of around 20 million monthly visitors to their site.
September 2017 marked their 500th issue published and its 43rd year in print.
At the time of writing this article (December 2021), the Cannabis Cup Illinois: People's Choice Edition just wrapped up for its second time.
Heather & High Times: A Love Story
This magazine was (and continues) to be where I found my love of cannabis, journalism, and creating quality content.
It showed me that I can live an amazing life doing what I love to do- write about weed.
It's safe to say High Times magazine is the reason I am a cannabis content writer.
My passion for words, educating others, and of course cannabis has been guided by this magazine for, let's just say many moons- as if I would tell you how old I actually am).
What's your favourite issue? Mine would have to be the one you see in the hit motion picture Friday both starring and written by Ice Cube.
How has High Times impacted your life? How long have you been a subscriber? Wee'd (we'd) love to know! Leave a comment below, or tag us on the socialwebs.
And, remember (as always) stay lifted!
About the author: Heather Burton
Heather lives with her husband and two children in beautiful British Columbia. Her passion has always been to enhance the lives of others by helping them reach their business goals.
Content management is her specialty, and writing is what she does best. Working specifically in the cannabis market, Heather strives to help dispensaries, patients, doctors, manufacturers and recreational users by giving them the voice they need. When she is not writing, you can find her anywhere outdoors and away from the screen.
Last Update
2022-10-03 09:19:25