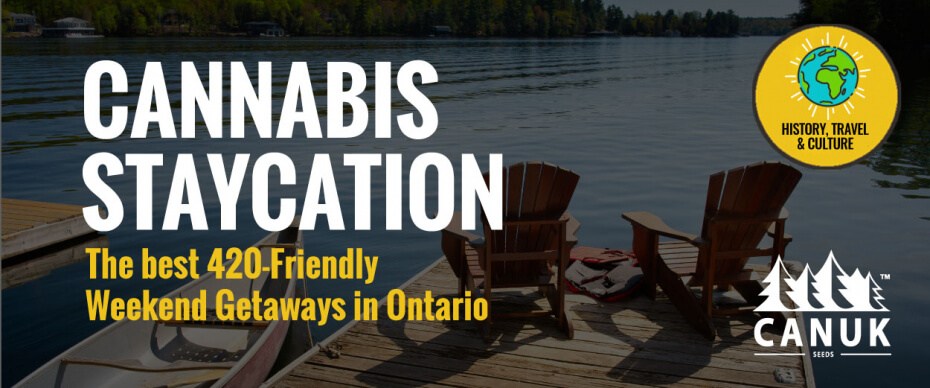 Since the legalization of recreational cannabis in Canada, the cannabis scene has exploded across the country-Ontario included.
There are so many cannabis-inspired staycation options in Ontario. You can spend a night in downtown Toronto in a luxury cannabis hotel, book a private bnb-style space, get a group of friends together and spend a weekend at a resort, or spend your Saturday putting around a 420-friendly golf course.
From staycations at resort-style cabins in the woods to enjoy the thriving scene of downtown Toronto in Canada's first luxury cannabis hotel, there is something to do for every type of cannabis user.
Personally, I wish I wasn't living on the west coast because a lot of these places made it on my travel bucket list. Fortunately, I live in one of the best places a stoner can live.
Obviously, we are living in strange times where we are supposed to stay home and stay safe. That means you may have to wait before escaping to these highly-rated cannabis accommodations.
Fortunately, if you live in Ontario, we still need to support local businesses during these trying times. I can't do your part, so you must do your part and stay at one of these fantastic spots.
You don't want to do anything for me? Fine. That's okay. As long as this article inspires you to plan your next cannabis adventure, I'll be happy.
Let's take a look at the best 420-friendly weekend getaways in Ontario.
Recreational Cannabis Laws in Ontario
Similar to laws in BC and cigarette laws, cannabis laws in Ontario are pretty lax. If you are the age of majority (19), you are legally allowed to consume cannabis in Ontario.
Basically, you can smoke weed wherever cigarettes are allowed. Taking a stroll downtown while puffing on a doobie is a-okay in Ontario!
You are only allowed to carry one oz (28g) of cannabis in public. If you end up on one of the many cannabis dispensary tours, make sure you keep an eye on how much weed you buy.
Cannabis Staycation: Resorts & Relaxation
I didn't know what to expect when I started investigating cannabis-friendly resorts in Ontario, but I have to say, I'm impressed.
Extremely impressed.
From rustic lakeside cabins to a luxury inn and spa (hello, Sir Sams), unplugging the electronics and restoring mind/body balance has never been more effortless.
While only a few places made this list, they are (in my humble opinion) the best 420-friendly resorts and retreats that Ontario has to offer.
Sir Sams Inn & Spa
The first cannabis-friendly resort is Sir Sam's Inn and Spa. Found in the scenic Haliburton Highlands, this tranquil escape is perfect for reconnecting and relaxing on the edge of Eagle Lake.
This adult-only resort boasts exceptional outdoor activities, peaceful spa services, and quint lakeside accommodations. It's a 4 season retreat with amenities for every type of cannabis user.
Birchwood Camp
Nestled in Burk's Falls, Ontario, Birchwood Camp boasts six lakefront cabins and tenting sites.
This summer getaway has fifteen acres of woodlands and 1500ft of shoreline.
Smokin' and hiking have never been so blissful.
Spend days boating on the water and the evenings at the bonfires by the lake. At a generous $125 per night (for a cabin), this is one affordable 420-friendly staycation.
Parks Creek Retreat
This hidden gem gives you the ability to unplug from the daily grind and unwind by slowing down and reconnecting with nature.
Parks Creek Retreat is open for four seasons.
Just like cannabis, this place restores mind/body balance and eases your heart and soul.
With a swimming hole and eighteen acres of forest, Parks Creek is an ideal team-building/ wellness retreat for friends and working professionals alike.
Smokey Pines
Located in Thedford, Ontario, Smokey Pines has cabins, a cottage, and a spacious modular home that you can rent.
Come spark one up and relax. Nestled in a spacious nature setting, the newly renovated cabins are waiting for you.
Perfect for a weekend getaway, these cabins are clean and come equipped with everything you need.
Reasonably priced, Smokey Pines is one of the only cannabis-friendly cabin resorts in Southwestern Ontario.
Just like a high-quality indica strain, staying at Smokey Pines will leave you calm, relaxed, and happy.
Beaver River Retreat
Last but certainly not least, we have Beaver River Retreat.
This is a very private four-season property nestled on the Beaver River.
Probably the most incredible feature of this retreat is they provide vaporizers!
Yup, that's right, not only can you spark a doobie in their six-person hot tub or on a lovely hike, but you also get to vape cannabis (if that's your thing).
Starting at $220/night, breakfast is included, and cannabis is provided.
If you feel social, there are great bars and restaurants.
If you're feeling not-so-social, Beaver River Retreat is happy to prepare anything you want to eat (whatever your munchie monster desires).
This is one cannabis staycation for the bucket list.
420 Friendly Getaway: City Life Hotel
Maybe you live in a rural area, or you're tired of hiking and blazing, so you want to try something new.
Why not stay in a trendy hotel in downtown Toronto?
Or, book a smoking-friendly hotel in a different part of Ontario.
Wherever you are, if you're looking for a thriving downtown experience, these 420-friendly locations are perfect for your inner city-slicker.
Cannabis Air
The very first cannabis-friendly luxury hotel has arrived- and it's in Toronto!
Situated in the heart of downtown TO, Cannabis Air boasts superior rooms complete with your own walk-out deck and smoking lounge.
The hotel includes a gym, library, outdoor pool, and entertainment room sure to keep you busy while consuming your favourite cannabis strain.
Depending on your budget Cannabis Air offers three suite options. The Pineapple Express- a cozy double bed, The Kush Queen- a luxury suite with a smoking lounge and fully-stocked kitchen, and The Ganjapreneur suite- a fully equipped one-bedroom apartment.
Offering over 30 dining options to choose from and expert cannabis concierge service available 24/7, there is no other experience like Cannabis Air.
Downtown Shangri-la
Its name speaks for itself. The Downtown Shangri-la is a special place nestled in the heart of the downtown core in Hamilton.
The King st. Arches are just steps away, as is everything you could expect shopping-wise.
At an impressive $135 per night, this one-room apartment has a fabulous outdoor smoking spot.
If you're looking for a quick and cozy staycation that is close to home, check this bnb-style apartment out.
Take the day touring cannabis dispensaries, come back to the Shangri-la, twist one up, and Netflix and chill.
The Pink Elephant
The Pink Elephant is a cannabis-friendly condo in Hamilton, Ontario.
This tobacco and alcohol-free facility encourages cannabis use.
At a respectful $149/ night, this hotel-inspired condo has all your smoking essentials on-site.
They hold smoke-out sessions in the lobby and coming soon, you can book your stay at The Pink Elephant Inn: Luxury Inn & Pool.
It looks like those canna-tourism dollars are being put to great use.
As a major cannabis enthusiast, The Pink Elephant is on my bucket list, and it should be on yours too.
If you're in the Hamilton area and you haven't been, book your staycation now!
Hotels With Smoking Rooms
Can't book a room at a cannabis-friendly resort?
No worries.
I've scraped and scavenged the interweb search listings to find a few smoking-friendly hotel rooms.
Because smoking cannabis is legal where smoking cigarettes is, I would consider these staycation ideas a legal loophole.
First up is the Knights Inn Motel in Midland, Ontario. This smoke-friendly and dog-friendly establishment is located near every major attraction Midland has to offer.
This quaint hotel offers complimentary continental breakfast (hello, wake and bake).
Next, we have Quality Inn and Suites located in Gananoque on the St. Lawrence River.
Minutes away from the famous 1000 islands, this motel offers smoking-friendly suits easy on the wallet.
If you have been looking to take a Thousand Islands vacation (or staycation) and make it cannabis-friendly, the Quality Inn is your best bet.
About the author: Heather Burton
Heather lives with her husband and two children in beautiful British Columbia. Her passion has always been to enhance the lives of others by helping them reach their business goals.
Content management is her specialty, and writing is what she does best. Working specifically in the cannabis market, Heather strives to help dispensaries, patients, doctors, manufacturers and recreational users by giving them the voice they need. When she is not writing, you can find her anywhere outdoors and away from the screen.
Last Update
2022-10-03 09:03:58