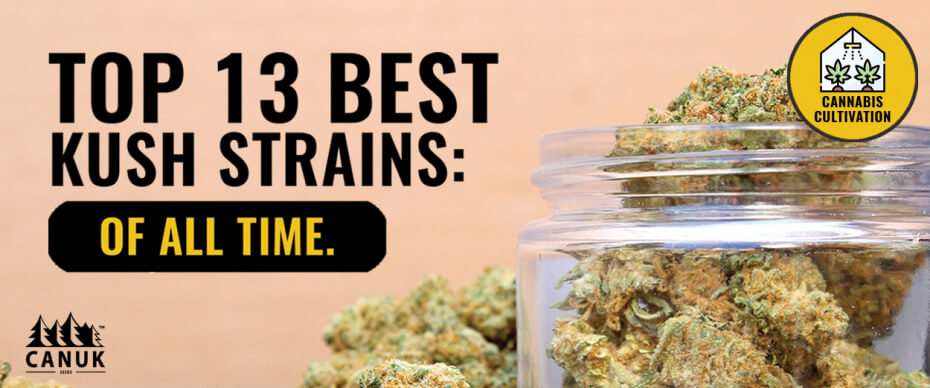 Hard-hitting mostly indica strains like those found in the Kush family are known to promote relaxation and restore mind/body balance.
Kush is an excellent cannabis strain- especially after a long day of bull crap. Silencing mental chatter and producing a sense of calm, a lot of Kush aficionados enjoy these strains on weekends or evenings.
That is, unless you're a long-term user (like myself), then Kush doesn't hit you so hard. Everyone's cannabis experience is unique. Personally, Kush strains allow me to relax, focus, and stay productive.
Without further adieu, here are the top 13 best Kush strains of all time!
Bubba Kush
Bubba Kush is known for its sweet fruity flavour and relaxing effects. The dense buds are covered in crystally trichomes. Otherwise known as Bubba, BK, and Bubba OG Kush, the THC levels range between 17-21%.
Most people who use Bubba Kush say they are left feeling calm, relaxed, happy, and sleepy. This cannabis strain may reduce pain, stress, anxiety, and depression.
Candy Kush
Candy Kush is an indica dominant hybrid cannabis strain with THC levels ranging between 15-221%. The offspring of Trainwreck and OG Kush, this strain leaves you feeling happy and uplifted.
The buds are dense with dark green and purple hues. This potent strain is a sweet treat that reduces anxiousness and promotes mind/body balance.
Afghan Kush
Afghan Kush is an easy-to-grow kush strain that's also known as Afghan OG. This strain is definitely felt throughout the body, leaving users feeling relaxed, calm, and at times sleepy.
Most users consider Afghan Kush to be a landrace strain as you can trace its lineage back to the Hindu Kush mountain range. It's known as the best strain for creating great hash.
Kryptonite Kush
Kryptonite Kush is a seriously potent indica strain derived from OG Kush. With an impressive THC content topping out at around 25%, this indica strain produces serious physical effects- hell, couch-lock!
The slight sativa presence (about 15%) encourages creativity, productivity, and euphoria when consumed. If you need to relax or calm down, Kryptonite Kush has got your back. With a mysterious heritage, it is assumed it was created between Killer Queen and Mendo Purps.
ObiWan Kush
ObiWan Kush is a hybrid kush strain. Bred by crossing OG Kush and Skywalker, this strain has an insane THC content- 25-30%. With a flowering time of 55-65 days, this strain produces dense buds.
Because it's a kush strain, ObiWan has that classic sweet berry smell with hints of citrus (thanks to the sativa presence). Known to reduce sadness, anxiety, and swelling, this strain is touted for its medical and recreational benefits.
Pure Kush
Pure Kush is known for its pain-fighting, mind-calming, sweet-tasting properties. With THC levels topping out around 16%, this is one dank indica strain. The classic kush aroma is present, along with its well-known relaxing effects. Both recreational and medical cannabis users enjoy this strain for its uplifting and happy-inducing effects.
Sour Kush
Sour Kush has one amazing THC content. Ranging between 20-22%, this hybrid strain might be indica dominant, but it also produces stimulating sativa effects. Sour Kush is the offspring of Sour Diesel and OG Kush.
Medical cannabis users enjoy this strain to help stimulate appetite, reduce headaches, reduces sadness, and helps with stomach issues.
When consuming a larger dose, you will find that the well-known kush properties of relaxation and sedation creep in.
Pink Kush
Pink Kush (aside from Bubba Kush) is one of the most popular kush strains on the market today. This indica-dominant hybrid has intense physical effects.
The buds themselves are as equally as powerful to look at.
Drenched in a thick layer of sugary trichomes, the dense light green buds have pink hairs (hence the name, duh).
THC levels range between 15-24%, which makes this strain perfect for relaxing. Beta-pinene is a dominant terpene in this strain, which promotes creativity, productivity, and calmness.
Kushy Kush
Kushy Kush takes six weeks to flower and is a deliciously sweet indica dominant hybrid. You can expect classic kush aromas flavours and effects from this strain.
THC content can be as high as 25%, which produces intense physical effects. Feeling uptight? Try Kushy Kush. Need your brain to slow down? Try Kushy Kush.
If you are a kush cannasseur, then you definitely don't want to miss out on this strain.
Banana Kush
Banana Kush is the offspring of Skunk Haze and Ghost OG. What can you expect? This strain essentially tastes and smells like banana.
Thanks to its hybrid genetics, this strain's effects vary from calm and relaxed to euphoric and energetic.
Medical cannabis users say this strain reduces stress, anxiety, and physical aches and pains.
This is an elite kush strain. With a flowering period of only 60-65 days, you can expect a sweet (no pun intended) yield of dense buds that have all the classic kush characteristics.
Hindu Kush
Hindu Kush is a pure indica strain. It is also considered a landrace strain because it is named after where it grows organically- the Hindu Kush mountain range.
The taste and aroma are what give all the kush strains listed in this article their sweet fruity smell.
Thanks to its short flowering time of 45-50 days, this strain produces decent yields of dense buds drenched in trichomes. The typical relaxing, calming and body-numbing effects of Hindu Kush do not go unnoticed.
Both medical and recreational cannabis users can expect a meditative high that leaves you in a state of bliss.
Purple Kush
Purple Kush is a pure indica strain and the offspring of two landrace strains: Afghani and Hindu Kush.
This strain is very well known across the recreational ad medical cannabis markets. Thanks to its THC content topping out at around 27%, you can expect calming, relaxing, and sedating effects.
The buds themselves are pretty dense, dark green with purple hues, and coated in a thick layer of frosty trichomes. This resinous strain is perfect for making cannabis concentrates and hash.
If you're looking for cerebral effects, you won't find them here. There is definitely more physical effects present- and of course, a perma-grin! Try not to smile after using Purple Kush.
Rockstar Kush
Rockstar Kush is the offspring of Rockbud and Sensi Star. This indica dominant strain has an intensely sweet and skunky aroma.
Just like every other kush on this list, Rockstar Kush promotes relaxation, happiness, and of course, sleepiness.
This strain absolutely increases your appetite- hello, munchies! With a flowering time of 8-9 weeks, Rockstar Kush is great for both indoor and outdoor grows.
Otherwise known as BC Rockstar, this beautiful strain is perfect for both recreational and medical cannabis users.
About the author: Heather Burton
Heather lives with her husband and two children in beautiful British Columbia. Her passion has always been to enhance the lives of others by helping them reach their business goals.
Content management is her specialty, and writing is what she does best. Working specifically in the cannabis market, Heather strives to help dispensaries, patients, doctors, manufacturers and recreational users by giving them the voice they need. When she is not writing, you can find her anywhere outdoors and away from the screen.
Last Update
2021-04-22 16:27:31