Tis' the season to wreck the halls with potent cannabis strains.
And Canuk Puk does it best.
Banana, Royal, CBD, and the coveted Slap Shot Series, are only a few of their best-selling creations.
Canuk Puk is always innovating new and unique cannabis puks that are packed with premium cannabis varieties.
This holiday season is no different. With sugar and spice and everything nice, Canuk Puk presents the Limited Edition Canuk Puk Holiday.
They have curated four festive cannabis strains sure to bring you joy.
Whether you have been naughty or nice, you don't want to miss out on this Puk.
The Limited Edition Canuk Puk Holiday
Inspired by premium cannabis strains, the Holiday Puk is truly one of a kind. Since only a single batch was created, once they are gone, they are gone for good.
If you're looking for something to impress the cannabis cultivator or cannabis cannasseur in your life this holiday season, look no further.
Canuk Cookies, Wedding Cake, Obi-wan Kush, and Pure Kush have been transformed into Sugar Cookies, Fruit Cake, Christmas Tree, and Angel OG this Christmas season.
These four strains are mostly indica, always feminized, and have a flowering time of around 8-9 weeks.
The Limited Edition Canuk Puk Holiday is made for those who like to indulge in sweet flavours and aromas and aren't shy of moderate THC levels.
With mostly-indica feminized strains, there is no better way to rest and relax this season.
This unique puk can't be found anywhere else and will earn you extra brownie points with those you give it to.
Or, you can be like me, and gift it to yourself!
Want a chance to win a Holiday Puk of your very own? Check out this contest before November 30th.
Sugar Cookies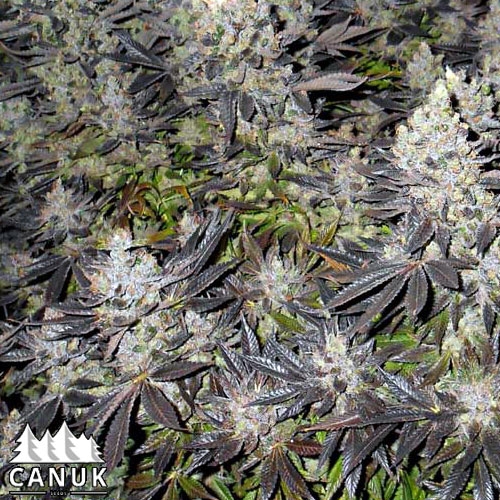 Otherwise known as Canuk Cookies, Sugar Cookies is a feminized cannabis strain that tastes as good as it sounds. Sweet aromas and sugary flavors are prominent with this strain.
This sweet treat has potent THC levels topping out at around 28%. It's known to reduce pain and increase appetite.
Sugar Cookies will leave you with a body high and euphoric cerebral effects.
The Details:
Variety: Mostly Indica
Strain Genetics: OG Kush x Durban Poison
Flowering Time: 7 - 9 Weeks
Medical Conditions: Lack of Appetite, Nausea, Pain
Effect: Body, Euphoric, Relaxing
Taste/Flavour: Earthy, Sweet
THC: Up to 28%
Yield: High
Fruit Cake
With a little Christmas magic, the elite strain known as Wedding Cake has transformed into Fruit Cake this holiday season.
This is a mostly indica feminized cannabis strain that's the offspring of Cherry Pie and Girl Scout Cookies.
With a flowering time of 8-9 weeks, you'll be indulging in this festively fruity treat in no time.
Thanks to its parental genetics this strain is sweet and fruity with slight berry undertones.
Expect dark and dense buds with a potent THC content topping out at over 25%.
Fruit Cake produces a myriad of effects. Depending on your own ECS and how much you can consume you may feel relaxed and calm, or uplifted, energized and creative.
Before you sit down at the dinner table this year, indulge in Fruit Cake as it boosts appetite and reduces unwanted feelings of depression, anxiety and pain.
The Details:
Variety: Mostly Indica
Strain Genetics: Girl Scout Cookie x Cherry Pie
Flowering Time: 8 - 9 Weeks
Medical Conditions: Anxiety, Arthritis, Depression, Insomnia, Lack of Appetite, Pain
Effect: Euphoric, Hungry, Relaxing, Sedative, Uplifting
Taste/Flavour: Cookies, Earthy, Sweet, Vanilla
THC Content: Up to 25%+
Yield: 450 - 550g/m²
Christmas Tree
Oh Christmas tree, oh Christmas tree, how pretty are your dense buds. An ode to a holiday classic, the Christmas Tree strain in the Holiday Puk is the offspring of OG Kush and Skywalker.
Also known as Obi-Wan Kush, Christmas Tree is a balanced hybrid and produces both relaxing and uplifting effects.
That's because of it's impressive THC content that can be as high as 30% when cultivated correctly.
This feminized cannabis strain flowers between 8-9 weeks and yields around 500-600 gr/m2.
Let's face it, some of us get the holiday blues, which can make you feel not-so-festive.
If you consume a little Christmas Tree it can help reduce the unwanted feelings of sadness, anxiety, and depression.
The Details:
Variety: Indica / Sativa
Strain: Genetics: Skywalker x OG Kush
Flowering Time: 8 - 9 Weeks
Effects: Relaxing, Sedative, Sleepy
Medical Conditions: Anxiety, Depression, lack of appetite, Insomnia
THC Content: 20% - 30%
Yield: 500-600 gr/m2
Angel OG
The last (but certainly not least) strain in the Canuk Puk Holiday is Angel OG. Typically known as Pure Kush, this indica-dominant strain is angelic.
Derived from Afghan Kush, Angel OG is fruity, sweet, and acts like a Kush strain typically does. It flowers in around 9 weeks, and has a THC content that tops out at 26%.
You can expect large yields of dense and potent buds.
If you are ready to wind down after all the holiday hustle and bustle, Angel OG is the strain to choose.
Couch-locking, sedating, and relaxing effects will have you drifting off to slumberland after consumption.
The Details:
Variety: Mostly Indica
Genetics: Afghan Kush
Flowering Time: 9 Weeks
Medical Conditions: Insomnia, Pain
Effect: Couch lock, Relaxing
Taste/Flavour: Fruity, Kush, Sweet
THC Content: Up to 26%
Yield: Large yields
Limited Edition Canuk Puk Holiday: Wrapping It Up
Make this holiday season merry and bright with the Limited Edition Canuk Puk Holiday.
These four exclusive strains will never be available again once they are gone.
Even the Grinch will be less grinchy withThe Canuk Puk Holiday.
What is your favourite strain from this Puk? We want to hear from you. Leave a comment below, or reach out on our social channels.
And, as always, stay lifted!
About the author: Heather Burton
Heather lives with her husband and two children in beautiful British Columbia. Her passion has always been to enhance the lives of others by helping them reach their business goals.
Content management is her specialty, and writing is what she does best. Working specifically in the cannabis market, Heather strives to help dispensaries, patients, doctors, manufacturers and recreational users by giving them the voice they need. When she is not writing, you can find her anywhere outdoors and away from the screen.
Last Update
2021-11-25 14:16:14
More post in same category